Lunch Box Adventures
As I recall, a little while back Carol asked what kind of things I packed for Pete's lunches.
This is it (for tomorrow, anyway):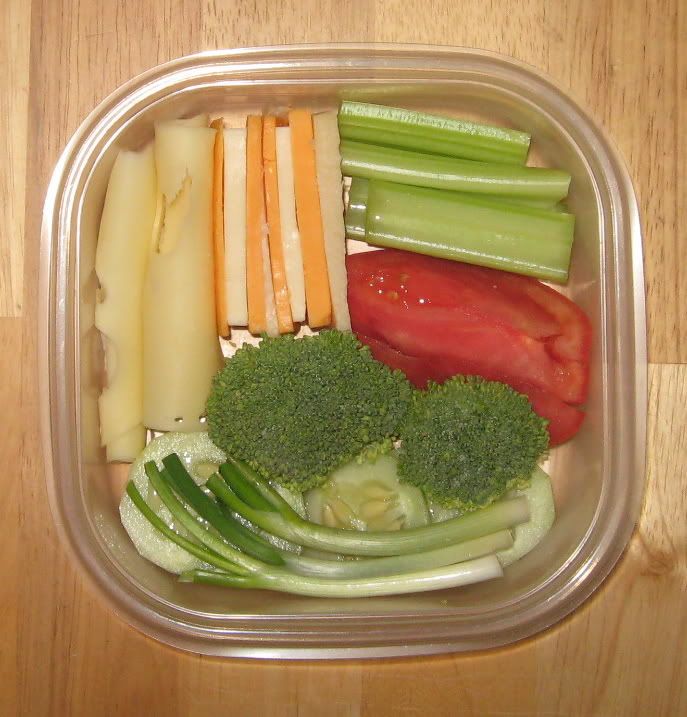 This box contains:
Green onions
Cucumber slices
Broccoli florets
Tomato wedges
Celery sticks
Parmesan cheese
Cheddar cheese
Monterrey Jack cheese
Swiss cheese
He has whole wheat crackers and some sauces to dip the veggies in at work. He also gets a bowl of fresh blackberries with sugar and fat-free half and half. (now
that's
an oxymoron for ya)
And me? I had this for supper tonight:
This would be a chicken breast baked in olive oil with herbs (lemon zest, basil, oregano, tarragon, garlic) then sprinkled with crumbled feta cheese and fresh lemon juice. And oh yeah, I had a couple of store bought whole grain pita breads too. Yes... it sure looks like I didn't have any veggies, but that would be incorrect. I had a salad before hand as well as a bowl of blackberries afterwards (no sugar or cream required for mine). All was quite yummy.
Labels: chicken, lunch, vegetables