A Treasure Beyond Rubies... part 2
My bulk flour and spice cupboard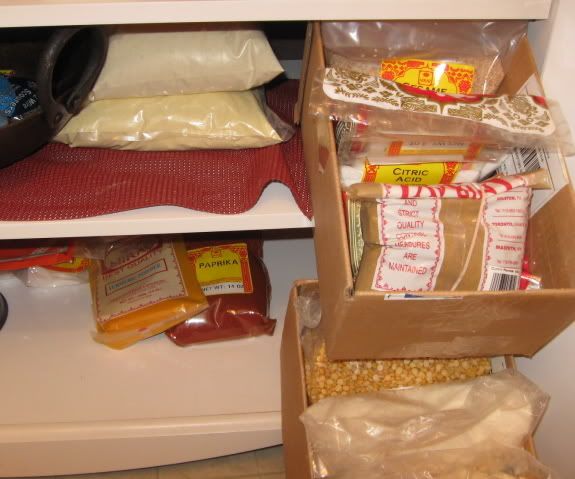 I keep the extra, or (backup) stuff in here. Along with my wok and my handy dandy little stick mixer and candy molds. I usually order my Chinese and Indian items from a place on-line called
I Shop Indian
which offers free shipping if you purchase over a certain dollar amount of stuff. Therefore, I usually end up purchasing a great deal at a time from them. Besides they often times have great deals on Basmati rice, like purchase one get two free, or buy one get one.
This cupboard is a little free standing cabinet at the backside of my U shaped counter, behind the sink. I keep my onions, apples, potatoes, garlic, etc., in baskets atop it. Inside you will find assorted packages of dal, or beans, peas, and lentils. Whole Wheat Roti Flour, Turmeric, Paprika, lemon powder, Garum Masala, extra hot chili powder, coconut powder (which needs to be kept out of the light... All sorts of wonderful things that my dear hubby would just as soon I not spend money on, but poo on him. I do it anyway. Me and Thomas LOVE Indian, Middle Eastern, West Indian, cuisines.
So... what do you do when you run out of cupboard space?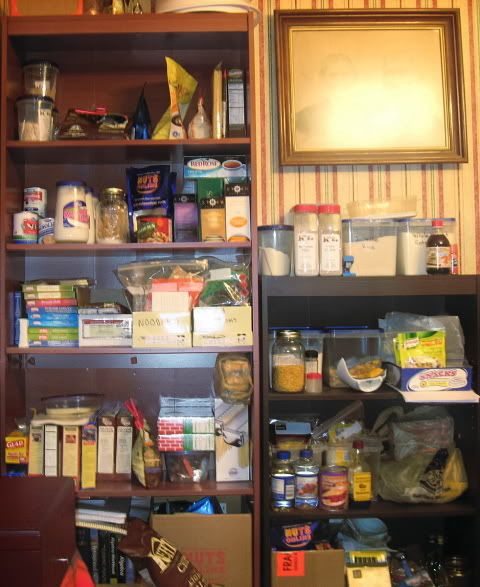 You put up some shelves in the dining room, of course. You never use it to eat in anyway. Why not extend the kitchen stuff into this room? tehehe....
These shelves contain such wonderful things as bulk dried fruits and nuts. Chocolate chips, and cooking chocolate. Light and Dark brown sugar, powdered sugar, powdered flavorings for candy making. Rice, Flours, seeds, candies, cookies, chips, noodles, dried mushrooms of all sorts, spring roll wrappers, sea weed sheets... Cereal grains, such as barley, oats, wheat berries, amaranth... As well as my bulk teas. Red Rose, Peach, and Jasmine green, in the big boxes there. Citrus and some more expensive (make you think you died and went to heaven) Jasmine green tea that I only have on special occasions and that I'm almost out of so I'm nursing it along until I need to purchase more of
everything
. I get it on-line from Stash Tea cause I buy in bulk, but if I don't hurry up and run out of Peach, I may have to break down and purchase a small box at the Earth Fare. They carry it, but they charge about twice the price of buying it direct! *ahem... sorry about that... :-)
So... I hope you enjoyed this little sojourn inside my soul. You must understand that this short journey does not include my pantry. That's a whole other continent, that I may take you exploring in at some other time.
My joy, my comfort, my "safe place" is cooking. When I am in my kitchen preparing food I am beautiful. I am whatever I want to be at that moment. I can go places, I can meet people, I can live any fantasy I please when I am cooking. I love to feed people. If I could, I would feed the whole entire world. Food is love, is happy memories, is sexy, is sensual, is security, is comfort... Food encompasses, engages, all the senses. Yes... all of them. You can smell the aroma, you can see the golden crust, you can feel the crunch of the breading, you can taste the flavor of the spices and the chicken, but before any of that... you hear the sound of it frying in the pan. So... that about covers it, no?